The conference was held on November 17 in Tenerife, covering topics such as the strengths and opportunities of elevator SMEs, new developments in legal and technical standards, accessibility, and technical solutions for the sector.
Nayar has sponsored together with Epic Power the meeting of elevator SMEs "Removing barriers" held in Tenerife on November 17th, with the aim of promoting a safe, open and diverse European elevator industry. Organized by Fepyma, the Spanish Federation of Associations of Small and Medium-sized Elevator Companies. This evinces how Nayar has once again played an active part by providing its technological knowledge and know-how backed by fifteen years of experience, as well as being a sponsor of the event.
José Luis Sanchis, CMO of Nayar, gave the presentation "Technical solutions for the elevator sector" sharing time with Pilar Molina, CEO of Epic Power, who explained the joint project "Development of a monitoring architecture and BigData in the management of energy consumption in elevators connected to batteries and solar generation system as a power source"; coordinated by AECAE and developed by Beltrán Ascensores, Epic Power and Nayar. Sanchis also reviewed Nayar's portfolio of IoT solutions, among which NayarSIM, the company's most recent launch (October 2022), stood out. A smart SIM that provides maximum convenience to elevator companies, avoiding the change of telephony in elevators, reducing installation times and without involving any additional economic investment.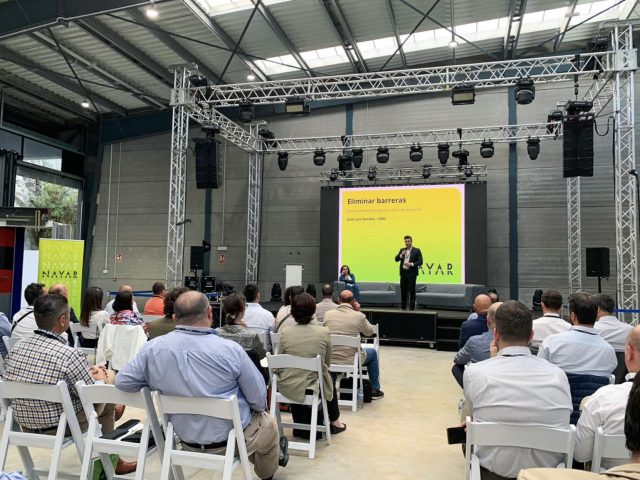 In the words of the organization, the aim of the local event "Removing Barriers" lies in: "Removing all kinds of barriers to create a society that is universally accessible thanks to an open, safe and diverse elevator industry. The elevator industry is removing barriers across Europe to achieve universal accessibility and mobility in all buildings." Also of note are the legal and regulatory barriers that SMEs are facing in the sector, including the imminent publication of the ISO 8102-20 standard on cybersecurity in elevators and, among others, the implementation of BIM methodology and data ownership.
Nayar once again demonstrates its commitment to the present and future of the elevation sector, sponsoring a day where the main industry players meet to build, together, a universally accessible society.