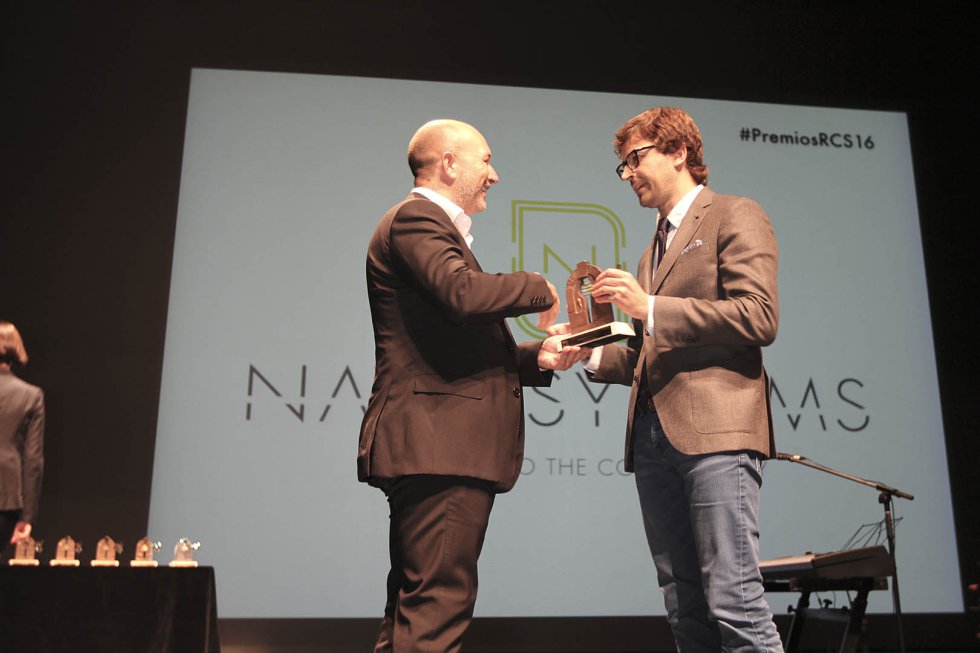 Alexis Nadal, CEO at Nayar Systems, delivered the prize to Héctor Molina, secretary of young farmers at FEPAC-ASAJA.
On October 28th, the Paranimf hall at University Jaume I hosted the XIII edition of Cadena SER Radio Castellón Awards, in which people and businesses were awarded in the activities they develop.
Nayar Systems maintained their commitment with the human capital and young talent of Castellón through their Corporate Social Responsibility Plan, by sponsoring the Young Talents Prize, which was earned this year by Héctor Molina, secretary of young farmers at FEPAC-ASAJA. Among Hector's many initiatives, we would like to highlight the farming project titled "el3ments, Sun, Water & Land", which proposes a model of agriculture based on retrieving abandoned fertile areas and converting them in ecological and sustainable fields.
This year the awards were marked by a large number of attendants, such as comedian Miki Nadal and singer India Martínez. Among the winners were: Castellón's Multiple Sclerosis Association, University Jaume I's project éBRICKhouse 2016, artist César Díaz Naya, Destaca Fair, University Jaume I, TAU basketball team coach Toni Ten, Michavila Centros de Automoción, the Mountain Movie Week, the folk dance group El Raval from Vila-real, midwife María Dolores Navarro Capdevila, Camins del Penyagolosa, and the Paralympic medalists of Rio 2016 Abderrahman Ait and Ariadna Edo.
After the Awards, the institutional representatives, the directors of Cadena SER Radio and the event sponsors – including Nayar Systems – all gathered for a cocktail at Hotel Luz in Castellón, taking the chance to further their networking with the province's main companies. Yet again, Nayar Systems demonstrated their commitment with the upcoming and young talent of Castellón, contributing to the province's socio-economic development.